ISLIP TERRACE


There were only a few farmhouses in the area north of East Islip as the 19th Century ended. In 1914, as World War I began, Andrew Wolpert Sr., a Bavarian native who had been a real estate agent in New York City, and his three sons began building houses in the woods between East Islip and Central Islip State Hospital. The Wolperts wanted to attract people of German origin, according to historians. The place was known as Germantown, but the war brought pressures to change the name of the community. Many people who moved there worked in the state hospital.

The name was changed to Islip Terrace in December 1922, when the post office was established in the former Wagner Hotel on Carleton Avenue, where the handful of businesses in this residential community are located. Local sources say the name came from the fact that the community was north of, or above, East Islip, and because a terrace connotes a strip of land planted with trees and shrubs.

About the time the Wolperts were building homes, the Pietram's Circus began giving shows in an old hunting lodge that attracted patrons for miles around. According to a local history, "Hearsay has it that people brought their own oil lamps to help illuminate the evening shows, featuring monkeys, dogs, horses, and acrobats."

Islip Terrace also has its own Fire Department located on Manhattan Blvd.
(F.D. History coming soon!!)

Click here for Islip Terrace Fire Dept Website

Click Here for Jules P. Krzenski ITFD Tournament pics



EDITORS NOTE: Can anyone identify this pocket knife? It is in the shape of a bat and says "Germantown" along its side.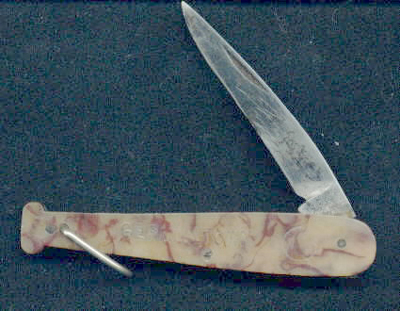 More Coming Soon!!