13 YEARS IN EAST ISLIP... 1965 - 1978
by Jules P. Krzenski
My wife, Jeanne, and I moved to East Islip during the fall of 1965, and for the first 3 years, our address was 28 Donna Place. Our youngest son, at that time, was among the initial group of children to attend the brand new John F. Kennedy Elementary School on Woodland Drive, just a short distance from our house.
I had been employed as a machinist since 1951, then 2 years out for the U.S. Army, and in 1956, I returned to the machine line. I eventually retired in 1994, after 43 years as a machinist. But now I'm way ahead of myself in my efforts to recall some memories of living in East Islip! Sorry about that! When we moved into the house on Donna Place, we had 5 children, and we were a little cramped for space... but the Krzenski family made out pretty good all the same! While living at that address, I was employed in a machine shop in Westbury...and was driving back and forth 6 days a week on the Southern State Pkwy. Since 1957, I had been keeping busy during my 'spare' time as a semi-professional photographer. I shot baby home portraits, weddings, some commercial assignments, etc. Shortly after arriving on Donna place, I discovered an opportunity to expand my photo efforts in a direction that had long interested me.
After submitting a couple of human interest type photos to the local weekly newspaper, The ISLIP BULLETIN, and seeing them published, I was given the opportunity to become a 'stringer' with the BULLETIN. That simply meant that I was not a full time employee, but was encouraged to shoot and submit photos of any subjects that I thought the paper would be interested in. And I would also receive an occasional assignment to shoot something special. I was issued a press card, that would identify me with law enforcement, and would indicate that I was authorized to shoot photos for the BULLETIN. I can't recall a single photo that was not used by the BULLETIN!
Below are some of Jules favorite shots form various LI Newspapers of the day
[photogallery/photo00031240/real.htm]
My full time employment as a machinist meant that life could be a little hectic at times because of newspaper deadlines! I not only spent time shooting photos, I was also doing my own lab work! It was strictly black & white photography back then - but it was still time consuming! During those early years on Donna Place I photographed several fire department tournaments...notably at East Islip and Islip Terrace. I had two reasons for covering the tournament action. The BULLETIN used some of the images...and I simply enjoyed fire tournaments! (See Jules' Tournament Pic's Here)
Sometime, during that period a new newspaper appeared on the scene in Suffolk County, in competition with NEWSDAY. The newcomer was named the SUFFOLK SUN, and they included a Magazine section that usually had a color first page with their weekend edition. I decided to try my hand at two photo stories, with text, on speculation, for their magazine section. Actually, only the first one was done on 'spec', because after it was published, the editor called my home, while I was working in Westbury, and asked Jeanne, what I had in the works for the next one!!
When the piece that he was curious about was published in DAWN, the SUFFOLK SUN's weekend supplement, I was given the credit line of "JP Krzenski, Sun Special Writer" That didn't harm my ego at all!
The first photo story involved the exciting sport of fire department tournaments. I already had a supply of images and I just needed to produce some interesting text. While working on that text, I began to have ideas for another piece, involving photos and text. This second idea was going to include some real work, both with new photos and a lot more text. That's what I had in the works when the SUN's editor called. This second effort was a story on the Bayard Cutting Arboretum. After receiving permission from the State Parks Commission, and a note of introduction to the Arboretum's Director, I made an appointment for an interview that supplied me with some very interesting details on the history of the Arboretum. The piece required a large amount of photo work, and not a small amount of text that required a serious amount of rewriting before I was satisfied.
One night, with yellow legal size papers scattered all over the kitchen table, while Jeanne had fallen asleep on the living room couch, with the television broadcasting Bobby Kennedy's campaign speech in Los Angeles, I was trying to concentrate on finishing an interesting text to go with my photos. But I couldn't help hearing what Bobby was saying on the television, that I couldn't see from where I was in the kitchen. Then suddenly, I heard the pop sounds that sounded like firecrackers... and people began screaming. I stopped what I was doing and went into the living room... and I have never forgotten that night!
The first photo story...on Fire Department tournaments...was published in the May 20, 1967 edition of the SUFFOLK SUN's weekend supplement, DAWN. And the second photo story, on the Arboretum, was published in the August 5, 1967 edition of DAWN. The latter one included a color cover for DAWN, from a color transparency, that I had shot of a woman and some children, strolling along a path among the trees. That was Jeanne, a couple of our kids and a neighbor's young daughter!
Left to right...Joanne, Debbie (in tree), Jim, Jeanne, Kathy (about 2 years old at the time) and Rob. Dave our youngest, arrived 2 years later in January of 1969
Unfortunately I guess, the SUN just could not compete with NEWSDAY. Sometime after my second article was used, the paper folded. At least I knew it was not my fault! About a week after the arboretum piece was published, I received a phone call from the Arboretum's Director, during which he thanked me for a good job on the piece and then he informed me that there had been an increase in attendance since it was published!
Another photo activity that kept me really hopping during that era was when the Islip Town Council came due for another election period. Councilman Herman K. Hammer (I'll NEVER forget that name!) was running for re-election. His Campaign Manager was also the Editor of the ISLIP BULLETIN (for the love of me, I can't recall HIS name! I think it was Bill something!) who, in turn, appointed me as Hammer's Campaign Photographer! Talk about busy times!!
By then, I was working the night shift in a machine shop in Bohemia and during the day, I was on the go, keeping up with Herman K. Hammer. Wherever he went, I had to be there with my camera! I was even forced to call in sick a few times at the plant when Hammer had an evening campaign appearance scheduled! Hammer's Campaign Treasurer was Mary Grace Anzel (I'm sure that name will ring more than a few bells in East Islip!) She signed the checks each time I delivered the negatives to her at their estate. I remember each time I got out of my car, the Anzels' two HUGE Saint Bernard dogs would literally pin me against my car... as they licked my hands in friendly greeting!
Herman Hammer's campaign for re-election to the Islip Town Council created a wide variety of photo work. Not simply newspaper coverage, even though there was a large amount of THAT! But it included all his campaign literature- posters, hand-outs, special items, etc. In short, anything that included one or more photos of the smiling candidate! One of my negatives (all black&white back then!) was sent to a lab in New York City that had facilities for producing LARGE prints. The result was a 9 by 12 foot billboard on Montauk Hwy in the eastern portion of Islip Town. There he was... a HUGE Herman K. Hammer, with his trademark corncob pipe. I have to admit, I was more than a little proud of that billboard! When my family and I took a ride to inspect that billboard, I was inspired to get some extra mileage with that shot. I had my two youngest children, one holding a leash attached to our new puppy, stand side by side looking at the billboard. I stood behind them and shot a photo of two small children, with a puppy, staring at the huge billboard image of a smiling Herman K. Hammer, with his corncob pipe. Even the little puppy seemed to be staring, along with the little kids! That image was published on the front page of the ISLIP BULLETIN!

Click thumbnail for a bigger pic)
Of all the wide variety of photo work I did with the ISLIP BULLETIN, both on assignment and on spec, the assignment to cover the dedication of the $1.3 million dollar General Douglas MacArthur Terminal Building at Islip Town's Long Island MacArthur Airport on October 1 and 2, 1967, created the most pride and satisfaction for me as a photographer. The entire front page of the October 6th edition of the BULLETIN was covered with a selection of my photos. The largest image, my favorite, shows the brand new terminal building, with an American Airlines 727 parked on the ramp directly in front of the building, with both framed by the huge sweeping tail of a TWA 727.
(Click thumbnail for bigger pic...)
In 1968, the Krzenski family was again in the growing stage. Our 6th baby was on the way! We obviously needed a larger house! We signed a contract with Lou Gelsamino and his construction business, GREAT RIVER HOMES. In August, 1968, we moved from Donna Place to our brand new home at 144 Hawthorne Avenue, just across the street from the railroad. I personally picked that lot, and Jeanne agreed with the location! It was an ideal location for anyone with an interest in the railroad industry. I first 'discovered' the railroad at the age of 14 in 1946, in Southampton, where I was born and lived until graduation from Southampton High School in 1950. Beginning in 1957, besides all the other photo work I had been doing, I had been photographing the Long Island Railroad's equipment and operation, off and on, during my 'spare' time. (See Jule's LIRR Pics Here)
Our youngest son was born on January 9, 1969. We had a brand new home and a brand new son, what more could anyone ask for?! His birth made it 3 boys and 3 girls. They are all grown now, and married, with kids of their own. I have 12 grandchildren. Our 3 oldest, a son and 2 daughters, graduated from East Islip High School, beginning with Jim, in the Class of 1974, followed by Debra in 1975 and Joanne in 1976.
On April 8, 2004, Jim retired from the U.S. Coast Guard after 27 years of dedicated service. Our oldest daughter Debra was married in Saint Mary's Church, in East Islip, in 1976. Only our two youngest sons, Robert and David, live here in Alamogordo, New Mexico, where they are both licensed contractors in the construction field. The other four. Jim, Debra, Joanne, and Kathy all now live in Florida with their families.
Jeanne and I were married on February 6, 1954 in Farmingdale, where we both were living at the time, and I was sworn into the U.S. Army 11 days later! Upon our return to Long Island, after I was once again a civilian, we lived in several towns. But when we moved to East Islip, we both knew we had found the place to really call home.
After moving into the new home on Hawthorne Ave, Jeanne began working with the Suffolk County Police Department as a School Crossing Guard. A job that lasted for 9 years. During her first few years with the SCPD, she was assigned to a large variety of posts...each one for a fairly short period. She even spent time on a post, on Montauk Hwy...out in Sayville! I recall how much she hated that one! One of her posts was the intersection of Sunrise Hwy and Connetquot Ave.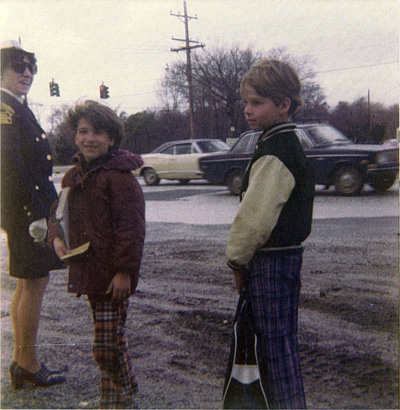 That post involved very heavy school traffic, and because Sunrise was still a divided highway at that time, it required two crossing guards...one for each side of the highway. Jeanne's partner on that post, resigned from the SCPD and she and her husband moved to New Mexico about a year before we did! She was assigned a lengthy stint on the post at Union Blvd. and Laurel Ave. almost around the corner from our Hawthorne Avenue home.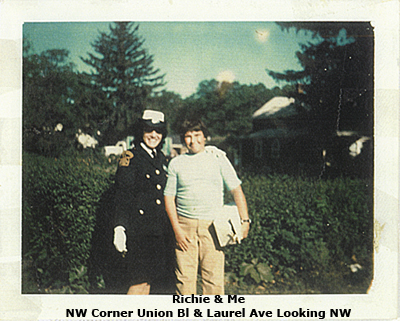 She had a funny incident on that post during the beginning of the 1977/78 school season. We had only one vehicle at the time and she would drop me off at work
at SEN-DURE Manufacturing on Moffitt Blvd, Bay
shore
, before having to be on the post in the morning. Then she finished the afternoon tour before I got off
and she would pick me up each day. Needless to say
that was a drag for her! One day she noticed a late model Pinto hatchback headed west on Union, during her morning tour.
The Pinto had a 'FOR SALE' sign in a side window. The next morning
when she saw that vehicle approaching the post, she stepped off the cur
b,
began blowing her whistle
,
and pointing at the driver. He was a young guy and he quickly stopped and pulled over to the curb, a short distance past the post. There were no kids
crossing
at the time and she walked to his car and discovered she had scared the hell out of him
,
he thought he was in trouble with the law! She apologized and explained that she just wanted to know what he wanted for the car! We registered that car the following week and we each finally had our own wheels for work!
She resigned after the schools closed for the summer of 1978.
Yes, East Islip was a great town in which to live, and a good environment in which to raise children. I eventually grew tired of what had really become a 'rat race' of photography plus a full time job. Since 1971, I had been working as the foreman of the machine shop department at SEN-DURE Manufacturing, on Moffitt Blvd in Bayshore, and I decided that ONE job was enough! But unfortunately, we were also becoming tired of high taxes, congestion, etc...all the negative aspects of life in the Northeast When my vacation came along in 1977 we flew via TWA, to Albuquerque New Mexico. After a one week tour of the southern portion of NM, we decided that Alamogordo would be a fine place in which to live. All those negative aspects of the Northeast do not exist in southern New Mexico! Indeed, during that one week, we learned what the motto of New Mexico really means..."The Land of Enchantment". We had found our new home.
On Sunday morning, October 1, 1978, after we had sold our home on Hawthorne Ave, we left for Alamogordo, here in the high desert, at 4300 feet altitude, of South Central New Mexico. At the time, we truly wished that we could have loaded East Islip into the U-Haul truck with everything else and brought it with us!
Unfortunately, Jeanne passed away in March of 1993 after a long illness, at the age of 58. On February 6, 1993, our 39th anniversary, she was in the ICU of our local hospital. A little more than a month later she was gone.
In June of 1995, I was lucky enough to actually find just the right woman again! I remarried and my life was again complete. My new wife, Pon, is a wonderful woman from Thailand, who has been in America since 1972. She became a Naturalized Citizen in 1982. It is the second marriage for both of us.
If anyone is really interested in being brought up to date...In 1985, Jeanne and I had moved out of Alamogordo to a 2-acre site about 5 miles south of town. I think we had realized that if we were going to live in town, where all you could see were the houses next to you and the houses across the street...we might as well have stayed on Long Island! This 2-acre site is located on the slope that leads up to the western escarpment of the Sacramento Mountains. From my front deck, I can see the entire southern portion of the Tularosa Basin. About 30 odd miles due west across the basin, the San Andres Mountains create some beautiful New Mexico style sunsets. Most of the basin is actually government property, in the form of the While Sands Missile Range, plus Holloman Air Force Base, home of the F117 Stealth aircraft, about 6 miles west of Alamogordo. Those black triangles fly over my property almost every day and night on training missions. From my front deck, I can also see the shimmering white line, beyond the Air Force Base, that forms the eastern edge of the incredible gypsum dunes of the White Sands National Monument.
As I said, East Islip was a great town in which to live and raise children...but, after close to 26 years, I've discovered that the land and the sky...the natural beauty of 'The Land of Enchantment'... really can win over the strongest Northeastern native.
JP Krzenski
Alamogordo, New Mexico
September 22, 2004
---
Jules in 1998
Jule's can be reached at jpandpon@zianet.com